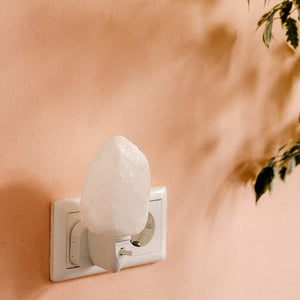 This salt stone (night) light provides a nice bright light in everyone's bedroom, living room or office space. When the Himalayan salt heats up by turning on the light, this creates a balance between positive and negative ions. Imbalance is caused by electronic equipment and can be harmful to your health. The lamp therefore has a purifying effect! This white variant obviously provides slightly brighter light than the orange variant.
The popular salt stone lamp is indispensable in so many ways. It provides a safe, warm atmosphere during a birth at home or in the hospital, is very suitable for the maternity period and helps children who are afraid of the dark sleep better. In addition, it is compact and easy to carry!
We also have the orange version of this light. You can find the orange natural Himalayan salt stone night light here.
PLEASE NOTE: The salt stone is (temporarily) supplied WITHOUT a (light) bulb. We recommend purchasing the high-quality LED light. This does not get hot, but remains cool. You can find the LED light here . You can also buy a light bulb somewhere with an E14 fitting, but these are much more vulnerable.
In an old socket, the light can sometimes lean slightly, due to the weight of the salt stone.

In rooms that are too humid, the salt stone can 'sweat'. Salt naturally attracts moisture. In this case, wipe the salt stone weekly (or more often if necessary) with a dry cloth.
We also ask you to take any pets into account. Some animals find salt very tasty, which may cause them to lick the salt stone. This is not healthy for many pets. If you have pets, make sure the light is out of reach for them if they tend to do this.