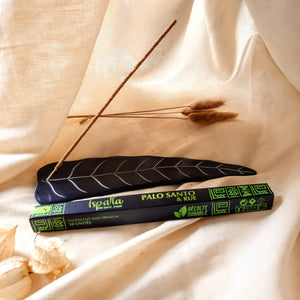 This natural incense contains Palo Santo and wine herb. The incense has both a wonderful scent and the ability to bless spaces, people, animals, plants and objects.
In addition, Palo Santo is also suitable as a discharger and charger of gemstones. Palo Santo removes the negative energy from the stone and immediately adds positive energy. The grapevine has a purifying effect.
This purification can also be helpful to other beings who immerse themselves in this scent, and grapevine also helps to strengthen your intuition.
A pack contains 10 incense sticks.
These sticks are handmade from wood collected in Peru. Sustainably obtained!
Are you looking for Palo Santo chopsticks? You can find these here .