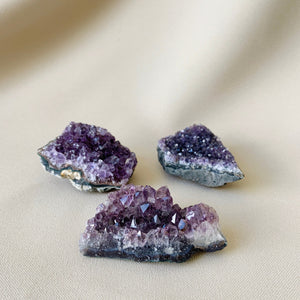 These small Amethyst clusters come from Uruquay. It is a beautiful quality Amethyst which you can see from the dark purple crystals. They are on average 5 to 6 cm long and 3 to 4 cm wide. So they may differ slightly in size, but they are all equally beautiful and of the same quality. These clusters are sold individually.
Amethyst supports you in clarifying your vision. It helps you connect with your inner source that gives you strength and inspiration, allowing you to reconnect with your intuition. The gemstone Amethyst helps you show what is really important to you, with compassion and without judgment.
There is an inner knowing within you that amethyst helps you to recognize. You feel that something is right and what decisions you have to make are right for you, regardless of what others think. It is the stone of wisdom and letting go.