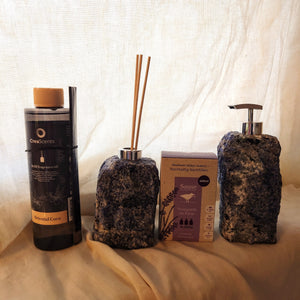 This set with a soap dispenser and diffuser creates a warm, pure atmosphere in the room. They look beautiful in any kitchen, bathroom or toilet. You can fill them yourself with your favorite soap, shampoo, lotion and diffuser oil. You can also use the diffuser as a vase.
The dimensions of the soap dispensers are on average 8 x 8 x 19 cm. The dimensions of the diffusers are on average 9 x 9 x 12 cm. The items may differ slightly in size and appearance. This is a natural product.
In addition to the matching set, this package also contains a fragrance oil where you can choose from three scents. To top it all off, you will receive free hand soap refills from Sause , in the scent of lavender with lemongrass. This refill pack contains 3 bags of soap powder. You can make 5 soap refills for this soap pump from each bag. The diffuser comes with wooden sticks as standard and extra black sticks come with the fragrance oil.
MORE ABOUT SODALITE
Sodalite is a stone that can help you gain self-insight and self-acceptance. It also ensures self-confidence. It is also a very soothing stone. The blue stone fits nicely with a calm interior with lots of white and of course also blue. The silver details on this dispenser match well with silver taps.
In addition to this sodalite value set, we also have the following sets: